Study on the accessibility of museums to visually impaired people

Mathieu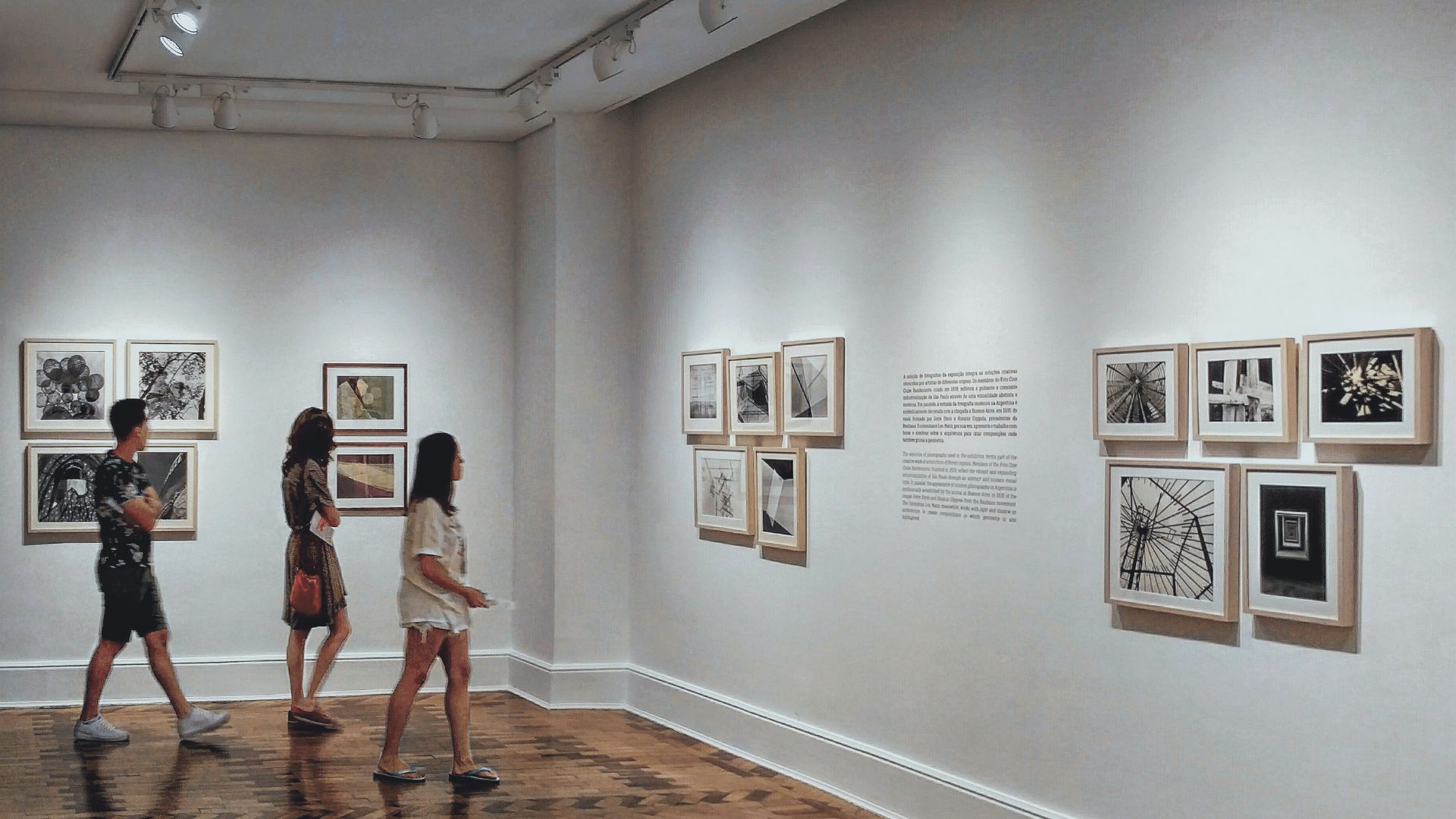 Our strongest desire is to support our clients in their mission to welcome people with disabilities. And to ensure that our solutions always perfectly meet the needs and uses of these audiences, we spend a lot of time meeting with them. It is in this context that we launched a study in July 2021 on the use of museums by visually impaired people in France.

This questionnaire included 15 questions on the following themes: their habits of visiting museums, their opinion on the tools made available for their accessibility, the obstacles encountered, and of course some demographic data to better know them. The study is based on 53 respondents and therefore in relation to the population our sample allows us to validate hypotheses at 90% with a margin of error of 11%. We present here the main results of this survey as well as the resulting analysis.
Infographic: "Do the visually impaired and blind go to museums?"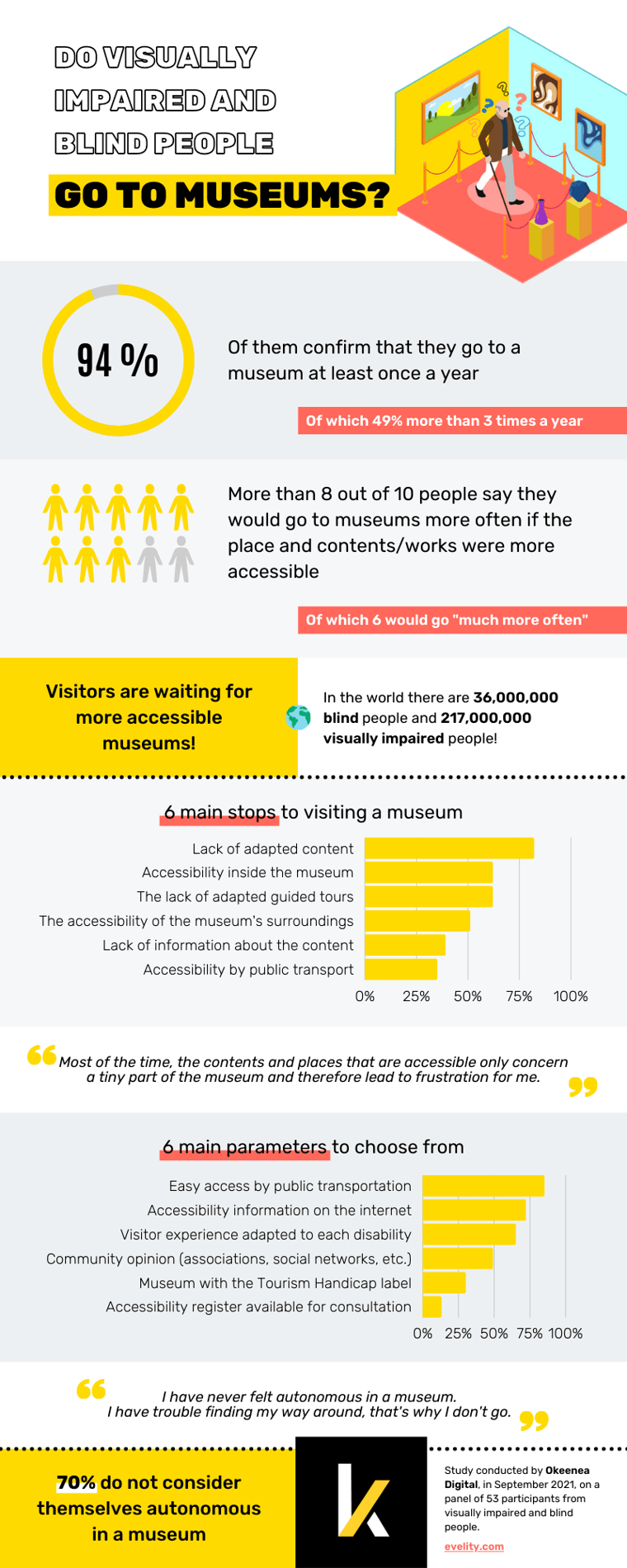 Who are the participants in our study?
Among the people who responded to our survey, the majority (51%) are between 30 and 59 years old. 40% of the people surveyed are over 60 years old. It appears that the proportion of people under 29 years of age is under-represented (only 9%).
Regarding the reading methods used when visiting a museum, audio is almost unanimously used by 97% of respondents. 70% declare using Braille and only 11% use large print. Other modes of reading are mentioned in the open comments: the use of optical aids such as monoculars, technological aids such as the magnifying glass on one's smartphone or the Seeing AI application, or reading by a third party who may be a companion, a member of staff or another visitor.

These numbers must be analyzed in relation to the degree of visual impairment of the respondents. Indeed, the number of visually impaired people practicing Braille is generally estimated at around 10%. Here, the figure of 70% can be explained by the high proportion of respondents who are totally or functionally blind. In the same way, the low proportion of people declaring to read in large print can be explained by the under-representation of visually impaired people.

Note that: there was unanimous support for the audio format, with the exception of one person who reported being deaf. There were no questions about the preference of one format over the other. However, we can quote the comment of one participant: "Even though I read Braille, I find audio much more universal for visiting a museum. However, Braille can be useful to me in the context of discovering a tactile representation."
Museum-going patterns of visually impaired people
94% of the participants said they visit the museum at least once a year. Nearly half (49%) go more than 3 times a year. These figures show us that the respondents to this questionnaire are keen on cultural activities. It would be unrealistic to believe that these results are representative of the entire visually impaired population. However, we can deduce that the participants are qualified users to share their experiences with us. Their opinion is therefore all the more valuable.
What if museums were more accessible?
If you had full access to museums and their contents, would you go more often? More than 8 out of 10 participants (83%) answer yes to this question. And nearly 6 in 10 say they would go much more often! This result clearly shows that physical accessibility and content adaptation are important levers for increasing museum attendance by visually impaired people.

This is confirmed when we observe the criteria on which they choose the museums they visit. 70% of them give priority to distance and ease of access. For 68% of them, the accessibility information on the museum's website also influences their choice, as well as the fact that they can benefit from an adapted user experience for 65%. Then come the opinions of other visually impaired people transmitted by social networks or associations at 49%. Next comes the "Tourism and Disability" french label at 30% and finally the french accessibility register at 13%. The latter still seems to be unknown despite the regulatory obligation that dates from 2017. We can assume that this lack of awareness comes from the fact that this document is still too rarely available in establishments receiving the public. When it is, its format is only exceptionally adapted to consultation by visually impaired people.
How do visually impaired people benefit from exhibitions?
When it comes to mediation tools, the most used by survey participants are in order of preference:
The classic audioguides provided by the museum for 60% ;
Group visits adapted and organized on certain time slots for 49%;
Tactile maps for 46%;
Personal accompaniment by a museum mediator for 40%.
These data confirm the interest of the visually impaired public for information in audio format. They also show the attraction of human accompaniment, within the framework of group or individual visits.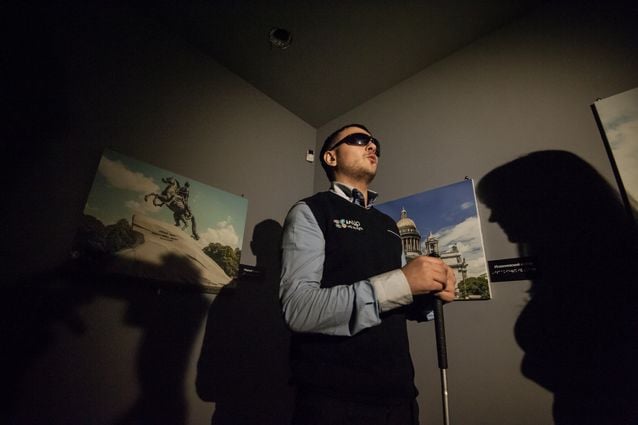 What are the reasons why people who are blind or visually impaired visit museums?
Nearly 8 out of 10 respondents (78%) prefer to visit museums during their vacation. Seventy-three percent (73%) go to museums out of curiosity, to make discoveries and have new experiences. Sharing with family and friends is also a strong motivation for 68% of respondents.

However, fewer (40%) go to the museum out of a need to escape, out of a taste for the atmosphere and architecture of these places. Finally, 35% of them declare that they go by opportunity, according to the organized visits.
Do you prefer to visit alone or in a group?
We have seen that more than two-thirds of the respondents consider sharing to be a motivating factor. And this is confirmed when we ask them if visiting a museum is a solitary or collective activity for them. Just under a quarter (24%) consider it a solitary activity. The remaining three quarters (76%) prefer to share it with others, either friends, family or tourist groups.
Obstacles to museum visitation?
Let's talk about the obstacles that prevent blind or visually impaired people from going to museums more often. For more than 8 out of 10 respondents (81%), it is above all the content adapted to visual impairment that is lacking in museums. Then come equally (for 62% of the respondents) the lack of tours adapted to visual disabilities and the lack of accessibility to find one's way inside the museum: guide strips, audio beacons, Braille signage or interior GPS. One person complains that adapted tours, when they exist, take place during working hours.

The inaccessibility of the museum's surroundings is also an obstacle for half of the participants (51%). Finally, for more than a third, the lack of information on the content and exhibitions, as well as inaccessibility by public transport, remain major obstacles.
Are visually impaired people independent when visiting a museum?
A large majority of survey participants (70%) never considered themselves to be autonomous in a museum. Given the percentage of respondents who said that they considered visiting a museum to be a group activity, one can hypothesize that autonomy is not an end in itself for some. However, others point to the lack of appropriate solutions, as suggested by these comments: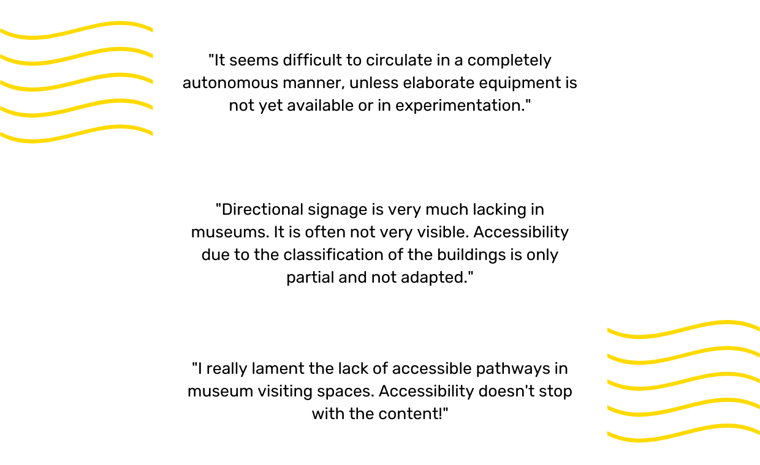 Finally, many stressed the importance of human assistance and staff training. Several of them deplore the lack of information available about adaptations made for visual impairment. Even the staff is often not able to provide information about adapted devices and assistance in their use, for example for audio guides.

The results of this survey lead us to conclude that blind or visually impaired people enjoy visiting museums and are very pleased with the adaptations made to improve accessibility. They would like these adaptations to be more widely used and, above all, to be promoted, both in information materials and in staff training. The participants mentioned many museums in which they had difficulty finding their way around. But they also pointed out other exemplary museums that should be emulated!
If you also want to improve the experience
for all your visitors with disabilities, contact us!